Crispy Chicken and Bacon Salad with Basil Tahini Dressing, an incredible salad that also makes a delicious meal. This salad combo is hard to beat and will make "Salad Meals" something to look forward to.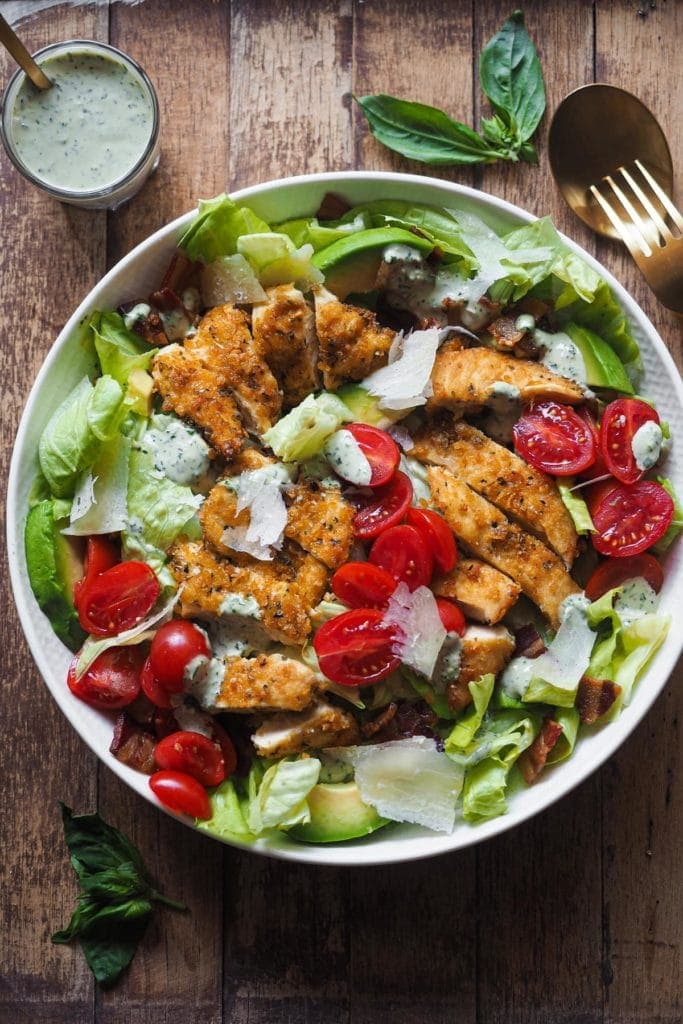 I love salad, but it's got to be exciting! There should be some veggies of course, but a little crunch (hello crispy chicken and bacon) and a damn good dressing like this Basil Tahini one are essential.
This salad also makes a great standalone meal (lunch or dinner, up to you). The combination of everything makes it balanced in all ways! From flavour and texture to being nutritious and delicious. It will not disappoint you! Let's get into the details.
Basil Tahini Dressing
Ready to learn about your next favourite dressing? This basil tahini dressing is creamy without any dairy being involved, which makes it perfect for lactose intolerants. Oh! And it's naturally vegan, which makes it also perfect in case you have vegan friends around and you'd like to prepare something with a creamy sauce. Because this dressing doesn't only go well with salads, but also on bowls, falafels, and even as a dip. It's so versatile!
The Details
I got asked about how I came up with this idea on IG when I shared it for the first time and l thought it would be worth sharing it here too. I hope to encourage you to experiment in the kitchen with this short story!I
So… I had some sad basil leaves sitting in the fridge which were going off. I couldn't use them to garnish since they didn't look pretty, but you know I hate wasting food. Thus, I thought, how can I use basil differently and where the look doesn't matter? The first idea that came to my mind was some sort of pesto, where everything would go blended. But then I concluded that this was too conventional and that I needed to make something more special to keep things interesting.
I had a bottle of tahini open from having made hummus and one of my favourite dressings consists of tahini, roasted garlic and lemon mainly. I imagined that basil would pair well with these ingredients, so the experimentation journey began until I finished with this Basil Tahini Dressing recipe.
I used raw garlic because it's summer and I don't switch on the oven so often. Also, I feel that the pungier touch of raw garlic vs roasted is perfect for this season!
What's Tahini?
This is another question I got asked. Tahini is basically a seed butter, made by grinding sesame seeds into a smooth paste. Sometimes the sesame seeds are hulled, sometimes they're left unhulled; sometimes roasted, sometimes raw. My favourite Tahini is made out of hulled and not roasted sesame seeds, which makes it runnier and lighter in taste respectively.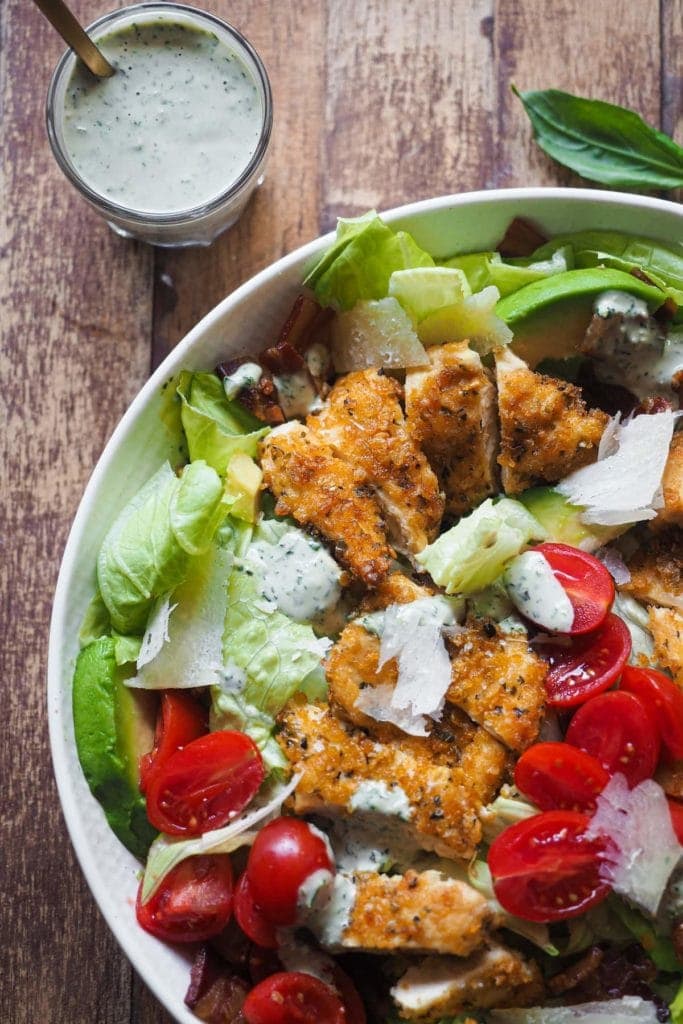 Some Notes on This Crispy Chicken and Bacon Salad is Perfect
Another cool thing about this recipe is that you can make everything in advance and assemble the parts for a packed lunch or a last-minute meal if you are having a busy day.
Dressing: you can double, triple or quatriple the quantities. It last well in a jar or air-tight container for weeks. Just bear in mind that it thickens over time, so when you want to use it thin it out with some water.
Chicken: you can also make as many chicken tenders as you want (grilled only even if you don't have much time). Keep them in the fridge for up to 5 days in an air-tight container. If you don't plan to use them in that time, freeze them cooked. Take into account though that the crispiness disappears when they sit in the fridge, so if you want them crispy, you can prepare the coating in advance and fry the chicken tenders when it's time to assemble the salad.
Bacon: cook it as per the instructions and keep it in an air-tight container. If you wish, you can keep it together with the chicken to save some sapce.
Lettuce, cherry tomatoes and avocado: the day of the assembly you just need to chop this up, that simple. Or you can even leave the cherry tomatoes whole.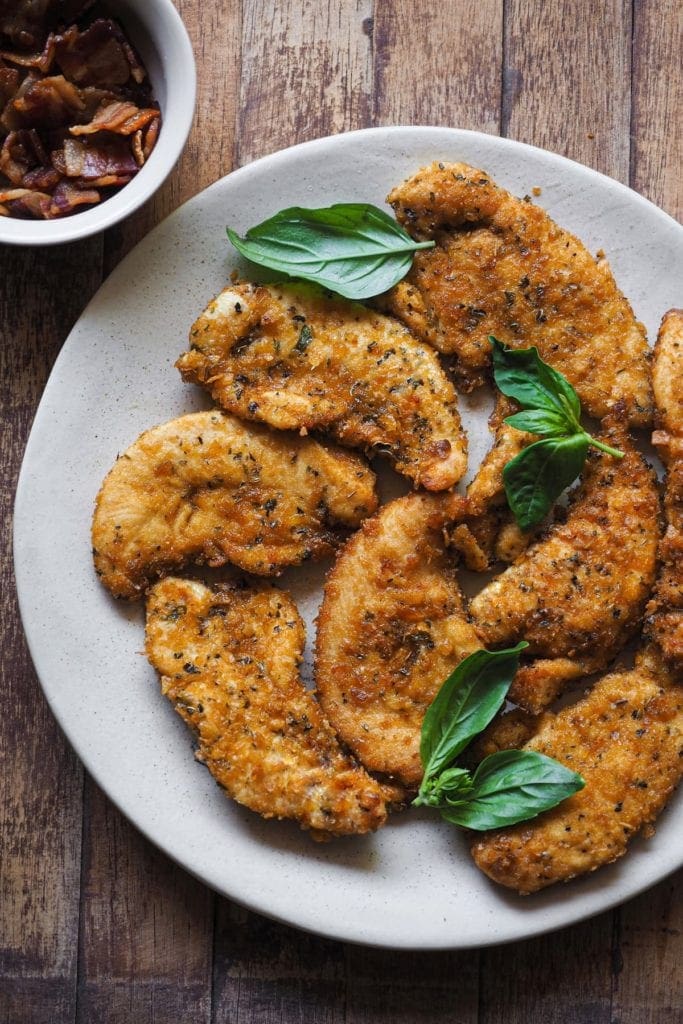 In Need for More One-Meal Salad Ideas?
I have you covered: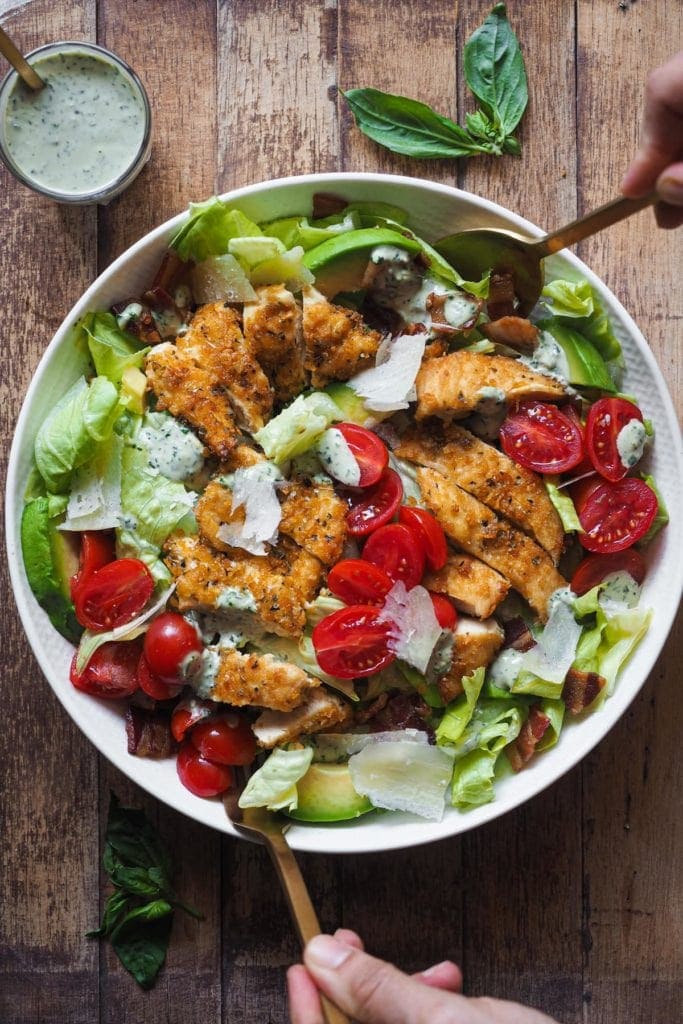 If you make this Crispy Chicken and Bacon Salad with Basil Tahini Dressing recipe, be sure to leave a comment and rate it. Hearing from you is everything! Oh, and don't forget to tag me on Instagram, I absolutely love seeing your creations. Happy cooking!
Crispy Chicken and Bacon Salad with Basil Tahini Dressing
Crispy Chicken and Bacon Salad with Basil Tahini Dressing, an incredible salad that also makes a delicious meal. This salad combo is hard to beat and will make "Salad Meals" something to look forward to.
Print Recipe
Pin Recipe
Ingredients
Crispy Chicken
8

chicken tenders

50

g

cornflakes

-

finely crushed

1.5

tbsp

flour

½

tbsp

dried basil

½

tbsp

dried oregano

¾

tsp

dried parsley

1

tsp

salt

Extra Virgin Olive oil
Salad
4

slices bacon

-

cut into squares

250

g

Lettuce

-

chopped

200

g

cherry tomatoes

-

halved

1

avocado

-

large, pitted and sliced or cubed

Parmesan

-

optional
Dressing
60

ml

tahini

2

tbsp

lemon juice

1

tsp

honey

1

garlic clove

-

sprout removed

10

g

basil leaves

½

tsp

salt

Water

-

up to 5 tbsp
Instructions
Cook the Chicken
Heat a skillet over medium heat. Add the bacon and cook until crispy.

Meanwhile, prepare the chicken. In a plate, mix the cornflake crumbs, flour, herbs and salt. Dredge the chicken in the cornflake mixture, pressing firmly so it adheres well.

Remove the bacon from the skillet, leaving the rendered fat on the skillet. Increase the heat to medium-high and add enough olive oil to cover the surface. Add the chicken and cook until golden brown, 1-1.5 min per side. Transfer to a cutting board and slice it into thin strips.
Dressing
Combine all the dressing ingredients except for the water and blend them. Add water progressively to adjust consistency, it should be creamy. Taste and adjust the salt.
Salad Assembly
Combine the lettuce, tomatoes, avocado and bacon in a salad bowl with a bit of dressing.

Toss some of the chicken in with the salad, and use some as topping. Shave the Parmesan cheese all over if using it, add some more dressing and enoy!
Did you make this recipe?
Please let me know how it turned out for you! Leave a comment below and tag @paulasapron on Instagram and hashtag it #paulasapron.