Ever since I discovered this aubergine dip (eggplant dip), Baba Ganoush as I knew it and Mutabal as I recently learnt it should be called, it has become a staple at home. It makes an incredible appetiser or healthy snack and it also works great as a side or base for some dishes such as my chicken wraps. It's creamy and has a good depth of flavour thanks to the smoky touch of the roasted aubergine. It's also vegan (or can be easily adapted), gluten-free and, what's even better, extremely easy to make. Serve it with vegetables or some type of flatbread and voilà, one of my favourite dips ready to be enjoyed!
In summer, a girl asked me on Insta if I had a recipe for Baba Ganoush and I promised her I'd post it on the blog once I got back from vacation, so here I am. Surprise surprise when I learnt that we tend to confuse this roasted aubergine dip (or eggplant dip) with Mutabal. But hey, the important thing is that regardless of its name it's delicious, and I've even seen non-aubergine fans reaaaaally enjoy it!
Mutabal vs Baba Ganoush. What's the difference?
I've been calling this roasted aubergine dip Baba Ganoush my whole life and it turns out it's actually called Mutabal. After some research and trying to inform myself as well as I could, apparently it's a "mistake" that we make here in the Western world but that due to globalisation has even spread in some areas of the Middle East (this article provides a bit of "numbers" , not big numbers but enough to make the point as I see it).
Let's start with what these 2 dips have in common. In both dips roasted aubergine is the star of the show, there are no discussions about this anywhere. Traditionally, the aubergine is roasted directly over fire so that it takes on a truly smoky flavour, although at home with fewer and fewer stoves and, above all, to save us some cleaning, fire is usually replaced by the oven.
So what's the difference? Well, it seems that the big difference is the use of tahini: Mutabal calls for it, while Baba Ganoush doesn't. In addition, Baba Ganoush usually includes chopped vegetables, such as tomato, pepper or onion, pomegranate molasses and walnuts.
Keeping the previous point in mind, today's dip would then be Mutabal. But if you want to call it Baba Ganoush, who am I to say otherwise? The truth is that after spending so many years calling it Baba Ganoush, I still struggle with calling it Mutabal. What about you? How have you been calling this dip?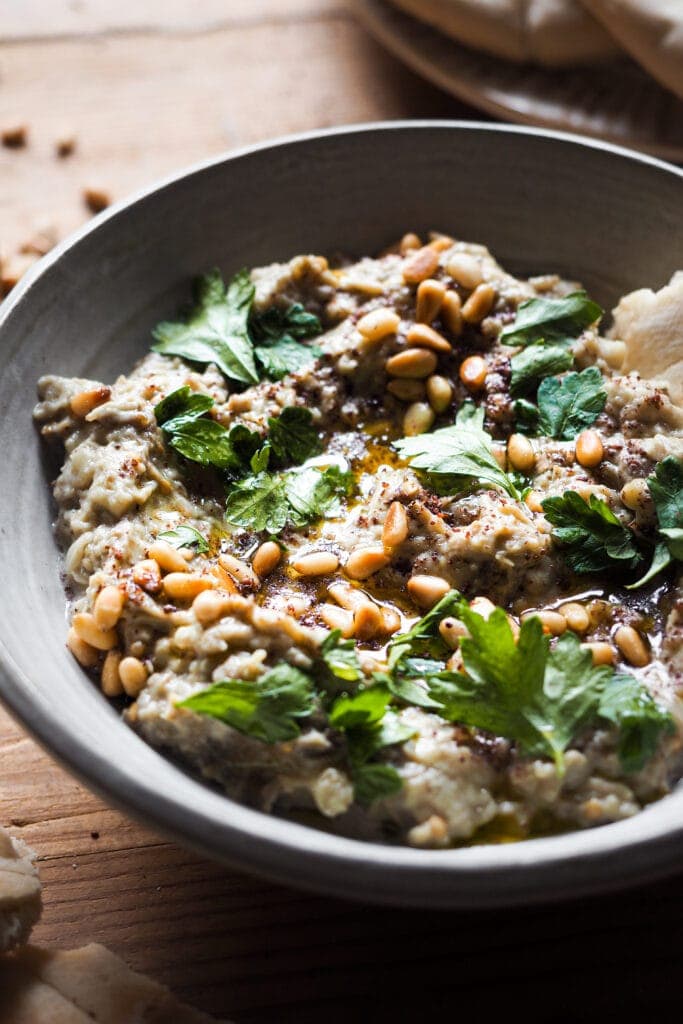 Mutabal Ingredients
Aubergine (eggplant): the star of the show. It can be roasted in the oven, on a barbecue for an even smokier touch or you can even steam it. No matter the way, you should really cook it until the flesh is very soft (at home I always go for the oven because I don't have a microwave or a barbecue).
Tahini: it's sesame butter. You can find it made from roasted seeds or unroasted (my personal preference). Bear in mind that roasted sesame tahini has a stronger flavour.
Yoghurt: it adds extra creaminess to the dip. It's optional but I think it brings that I-don't-know-what thing that makes everyone find it so good. Use a non-dairy option if for a vegan version.
Garlic: for a gentle garlic flavour, I used some leftover garlic from my Tomato Confit, but you can use garlic confit, so yet another idea of ​​how to use it among the tons of existing options. If you don't have garlic confit, you can use raw garlic (without the germ) grated or minced, roasted garlic cloves or cooked in the microwave (put them in a bowl, cover them and cook at maximum power for about 5 minutes until soft).
Lemon: it adds contrast and a touch of freshness to the dip.
Salt: as I always say, seasoning is a must.
Topping Options for This Aubergine Dip
Today I have opted for an extra virgin olive oil topping with sumac, toasted pine nuts and parsley, but you have so many more options:
Spices: za'atar, pepper, cumin, paprika, or sumac (as already mentioned).
Herbs: chives, cilantro, mint or parsley.
Seeds: sesame, hemp or poppy seeds.
Nuts: pine nuts are the one I like the most for this dip, but toasted and chopped almonds or hazelnuts could also work well.
Fruit: pomegranate is fabulous in here when in season. It brings flavour, texture and, my favourite thing, colour.
What to Serve Mutabal with
Personally I love a good flat bread, warm (if it's just been baked… oh my!), but I would never say no to any of the following options:
Frequently Asked Questions
Why does my aubergine dip taste a little bitter?
It could be due to any of the following reasons:
The type of tahini:

Bad quality tahini can be bitter and then transfer the bitterness to the dish. If the brand is from the Middle East, all the better :).
An expired tahini can go rancid and add bitterness.
Roasted sesame tahini is usually quite strong and if you aren't used to it, its taste may be a bit bitter. I personally prefer unroasted sesame tahini.
The aubergine itself:

The older (generally larger) an aubergine is, the more likely it is to be a bit bitter. If you use large aubergines, once you peel them, drain the water that they have released as well as you can (it usually takes away the bitterness).
The aubergine seeds also add bitterness. When I find big chunks of aubergine with seeds, I take them out to avoid risks. In general, the smaller the aubergine, the less developed the seeds are, and the better the aubergine is for the dip.
As a trick, you can always rectify the bitterness by adding a little maple syrup or light-flavour honey.
Which type of garlic can I use?
You can use roasted garlic (in the oven or barbecue), it has a similar texture to garlic confit. You can even use raw garlic if you're brave (I'd use half a clove without the germ for starters). A quick alternative if you have a microwave is to put the garlic cloves in a bowl, cover it (if you don't have a microwave-safe lid, you can use plastic wrap) and microwave them at max power in 1-2 minute intervals until they are soft.
Can I blend the aubergine?
Yes you can, no problem, although the result would be more like a puree and some texture will be lost. I personally prefer to mash it, but I mash it very, very well, making sure that there are no chunks or lumps of aubergine.
More Easy Appetiser Recipes
If you make this Mutabal (or Baba Ganoush, whichever way you want to call it) recipe, be sure to leave a comment and rate it. Hearing from you is everything! Oh, and don't forget to tag me on Instagram, I absolutely love seeing your creations. Happy cooking!
Mutabal, commonly known as Baba Ganoush
Mutabal is a delicious roasted aubergine dip that we often confuse with Baba Ganoush. It makes an incredible appetiser or healthy snack, and it also works great as a side. It's creamy and has a good depth of flavour thanks to the smoky touch of the roasted aubergine. It's also vegan (or can be easily adapted), gluten-free and, what's even better, extremely easy to make. Serve it with vegetables or some type of flatbread and voilà, one of my favourite dips ready to be enjoyed!
Print Recipe
Pin Recipe
Rate
Ingredients
Aubergine dip
800

g

aubergine

-

3 small or 2 large aubergines

2

tbsp

tahini

1

tbsp

yoghurt

-

optional

1

garlic clove

-

roasted, confit or half raw (you can always add more at the end)

1

tbsp

lemon juice

1/2

tsp

salt
Toppings
Extra virgin olive oil

Sumac

-

more options: paprika, pepper, za'atar

Parsley

-

more options: chives, cilantro, mint

Pine nuts

-

toasted

Pomegranate or sesame seeds – also great
To serve
Pita

-

bazlama or any flatbread (or flatbread chips like my piada chips)

Vegetables

-

carrot, bell pepper, cucumber cut into sticks
Instructions
Turn on the oven grill (broiler) or optionally prepare your barbecue or outdoor grill.

Prick the aubergines with a fork or knife and roast them for 20 minutes. Turn them over and let them roast for another 20 minutes, or until completely soft (keep in mind that depending on the size they may need longer). If you bake them, put them on the highest rack, close to the grill (broiler).

Let the aubergines cool down and peel them.

Chop the aubergine flesh and if you see that they release a lot of water, drain it.

Transfer the aubergine to a bowl (or if you want a puree-like texture, put it in a food processor). Add the tahini, yoghurt, lemon juice, garlic (if using raw garlic, grate it), and salt. Mash and mix all the ingredients well, you should get a lumpy-looking paste but there shouldn't be any chunks. Taste and adjust salt and lemon.

When you are ready to serve, put the mixture in a bowl or plate and top with olive oil, sumac, toasted pine nuts and parsley or any toppings to your liking. Serve with flatbread, vegetables and enjoy!
Did you make this recipe?
Please let me know how it turned out for you! Leave a comment below and tag @paulasapron on Instagram and hashtag it #paulasapron.