Making Homemade Pickled Red Onion couldn't be easier or quicker. And what do you get? A tangy, slightly sweet, and punchy onion made with just a handful of ingredients and a little bit of patience (some resting time is needed). It's a kitchen staple that you must include in your repertoire cause it's a super versatile flavour and colour booster. I'm sure that if you make this easy homemade pickled red onion once, you'll come back for more!
What's Pickling?
To pickle a vegetable or fruit is a fermentation process based on preserving them in a solution of salt or vinegar (as is the case with these red onions) so that they last longer while keeping their qualities .
Pickling red onion is perfect for preserving and boosting its flavour. In addition, as we'll see later, it's ideal to add an extra touch of flavour and colour to many dishes.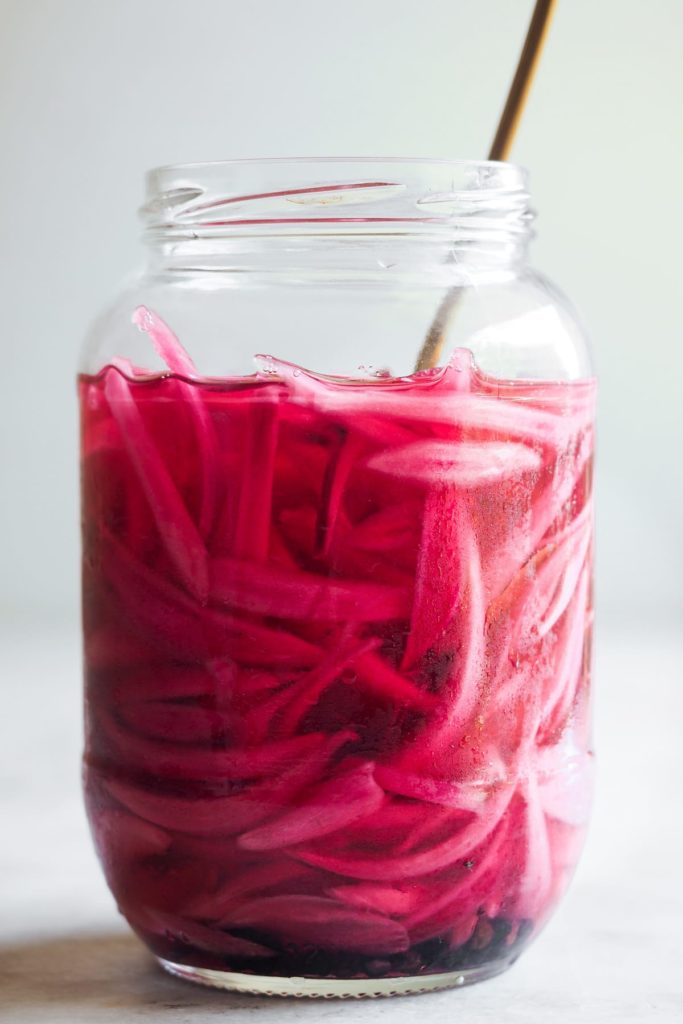 Homemade Pickled Red Onion Ingredients
As with most pickles, all you need is the core vegetable (in this case the onion), vinegar, water, salt, and optionally a sweetener and flavouring agent. And how does this translate into today's recipe?
Onion: you can use whichever variety you want. I prefer to use red onion because it has such a spectacular colour!
Water: essential to make the pickling brine.
Vinegar: depending on the vinegar you use, you can get different onion flavours and colours. I always prefer light colour vinegars and specifically apple cider vinegar, but you can use white wine, champagne or rice vinegar. Vinegar, in addition to being an important component of pickling, is one of the main reasons why red onions take on this cool pinky colour, I'll tell you about it in more detail at the end.
Salt : to round it all, don't skip a bit of seasoning.
Sugar: both the onion itself and the vinegar have strong pungy flavours, so a little of sugar helps balance it all out and bring out the onion's natural sweetness (if you're worried about your sugar intake, bare in mind that it gets dissolved in the brine, so when you eat the onion there will barely be any sugar).
Black peppercorns, bay leaf: I think that these go really well with red onion, but you can let your imagination run wild when it comes to aromatizing the brine or skip the flavourings altogether for an even simpler version.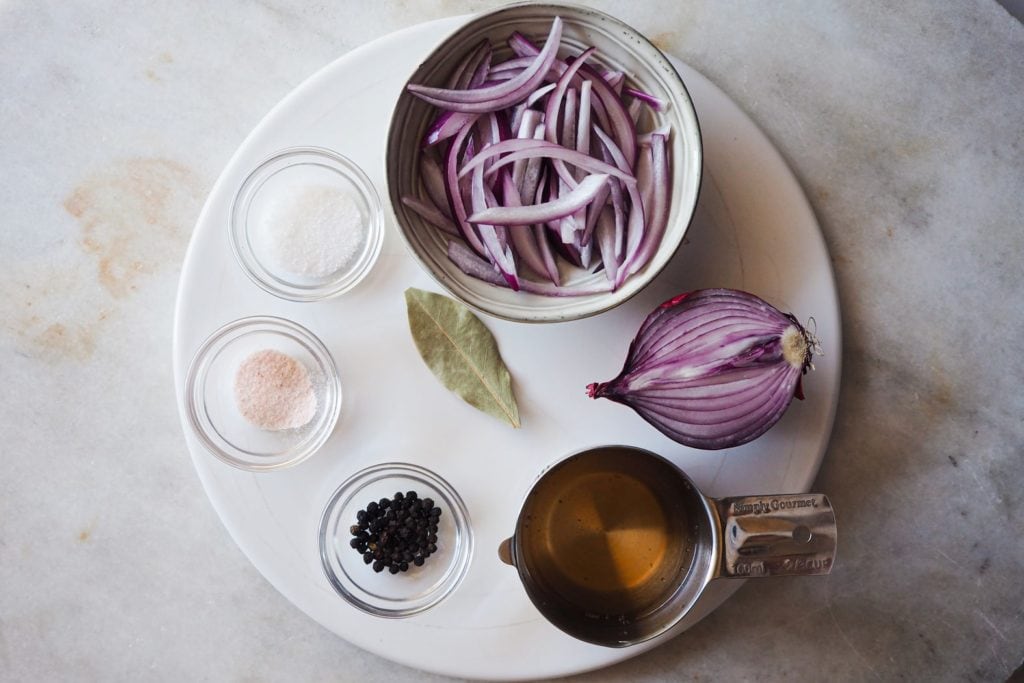 More Flavourings for Pickled Red Onion
You can add the herbs and spices that you like the most in the pickle. Here you have some ideas:
Mediterranean herbs such as rosemary, oregano and thyme, or even tarragon.
More aromatic and/or exotic spices such as star anise, cumin seeds, cardamom, cloves and white peppercorns.
Others seeds such as mustard, fennel or coriander.
Chilli pepper for a spicy touch.
Garlic, another classic.
Ways to Use Pickled Red Onion
You can use pickled onion with whatever you like. Above all, I find that it goes perfect in "fatty dishes" such as pulled-pork because its acidity balances the fat, but it really goes well with tons of things:
Tacos, pickled red onion is a must in many tacos, especially in those with seafood, fish and meats rich in fat.
Toasts, I love it on an avocado toast with cheese (cream cheese, feta, goat cheese…).
Sandwiches and hamburgers, a touch of "green" is always great, you know I'm a fan.
Poke Bowls, always so colourful and tasty, the pickled red onion adds an extra touch, besides pairing perfectly with raw fish.
Salads, instead of using raw onion, use pickled onion.
How to Store Homemade Pickled Onion
After having mixed the brine with the onion, let it cool completely to room temperature and store it in the fridge. My preference is to store it in an airtight glass jar due to the acidity point of the pickles (if you want to sterilize it or use it directly clean from the dishwasher, all the better). It keeps well for 1 month (to date, I haven't tried any longer).
Important small note! When you plan to have some pickled red onion, take it out of the fridge so that it hast time to get to room temperature, in this way you'll enjoy it's flavour much better!
Why Does Pickled Red Onion Get this Beautiful Pinky Colour?
If you have gone through the About Me page or follow me on Instagram, you will know that I am a curious person and a bit of a science freak. I like to learn and know about the reasons why behind things, so I thought… why don't you share this curiosity :P? There are 2 main factors that contribute to the red pickled onion having this beautiful colour:
When the boiling water hits the onion, it breaks the membrane of its cells, helping the purple color to come out, which in turn contributes to unleashing this beautiful pinkish colour.
The vinegar is also key, and in fact it is the most important element. Red onion has anthocyanins, responsible for the colour that this vegetable has, and they are very sensitive to changes in pH. In an acid medium (with vinegar) they acquire a more reddish colour, which is why in this case the purple onion becomes more pink, while in a basic medium they acquire a dark blue colour.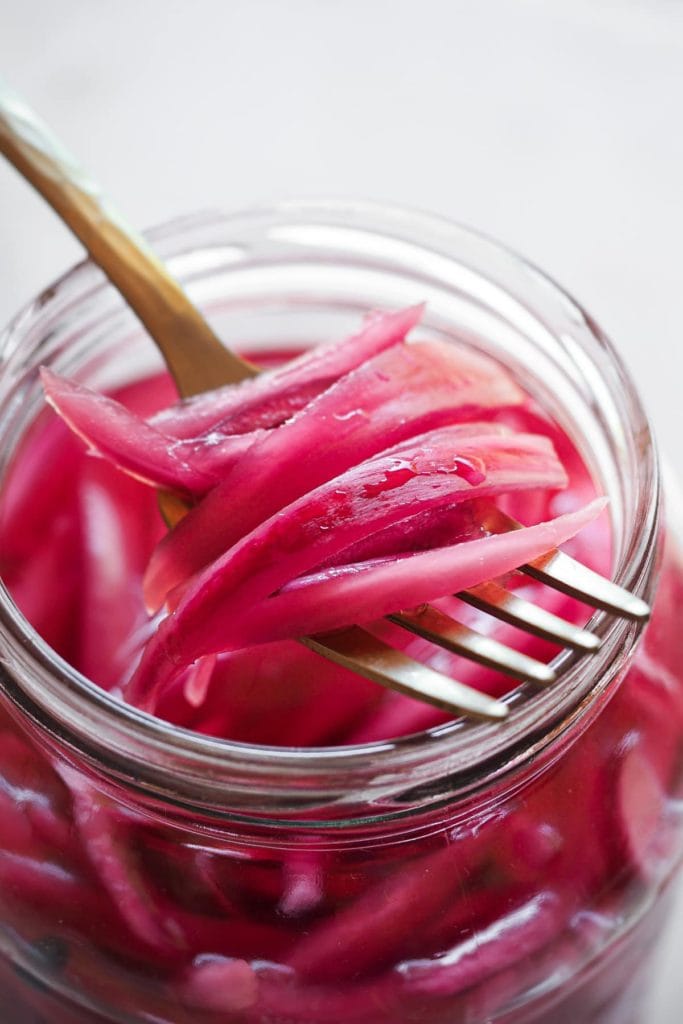 Some Thins to Bear in Mind
This kitchen staple is very simple to make, but let me share some tips and tricks so that you have even more resources to nail this recipe.
Let the preparation rest for at least a couple of hours so that the onion begins to soften a bit and take on the pink colour that you see in the photos, but it is better to let it rest overnight.
If you don't like the taste of vinegar and just want to use this onion for the colour and oniony flavour, you can always rinse it with water before using it.
If you find that you run out of liquid to cover the the sliced onion, always add the same proportion of water as vinegar. The brine should always have the same amount of water as vinegar.
You can pickle other vegetables such as cucumber, carrot or radish using the same procedure.
Slice the onion thinly and separate the layers so that they better absorb the brine (brighter colour and better pickling). You can use a mandolin to slice the onion if you want.
More Cooking Basics to Top Up your Dishes
If you make this Pickled Red Onion recipe, be sure to leave a comment and rate it. Hearing from you is everything! Oh, and don't forget to tag me on Instagram, I absolutely love seeing your creations. Happy cooking!
Easy Homemade Pickled Red Onion
Making homemade pickled red onion couldn't be easier or quicker. Add it to your repertoire because it's an incredible flavour and colour booster!
Print Recipe
Pin Recipe
Rate
Ingredients
1

red onion

-

large, thinly sliced and layers separated

240

ml

apple cider vinegar

-

or white wine, champagne or rice vinegar (light in colour)

1

tsp

salt

1

tbsp

sugar

-

optional

1

bay leaf

1

tsp

black peppercorns

240

ml

water

-

boiling
Instructions
Put the red onion slices in the jar where you are going to store the pickled onion.

In another jar or bowl mix the vinegar with the salt, sugar, bay leaf, black peppercorns and boiling water. Stir very well so that the salt and sugar dissolve.

Pour the brine over the onion. The onion must be completely covered (see notes).

Place the lid on the jar and shake it a bit. Let it cool completely to room temperature and store in the fridge for up to a month.

Wait at least 2 hours before enjoying the pickled onion, but it's better to let it rest overnight.
Notes
Always use the same amount of water as vinegar, the brine has to have the same proportion of both liquids.
You can use other spices and herbs to aromatize the brine.
Did you make this recipe?
Please let me know how it turned out for you! Leave a comment below and tag @paulasapron on Instagram and hashtag it #paulasapron.