These 10 Minute Creamy Mustard Chicken Breasts are one of those lifesaver recipes. It's super easy, impossible to mess up and it results into juicy and tasty chicken breasts. I've added a spinach touch because you know, I always like my greens, but if you don't like them omit them, you'll love the sauce just as much! Oh, and did I mention that I mention that it only takes 10 minutes to make it end to end? Be ready to make it with some nice bread on the side, rice, pasta or mashed potatoes to soak in all that sauce.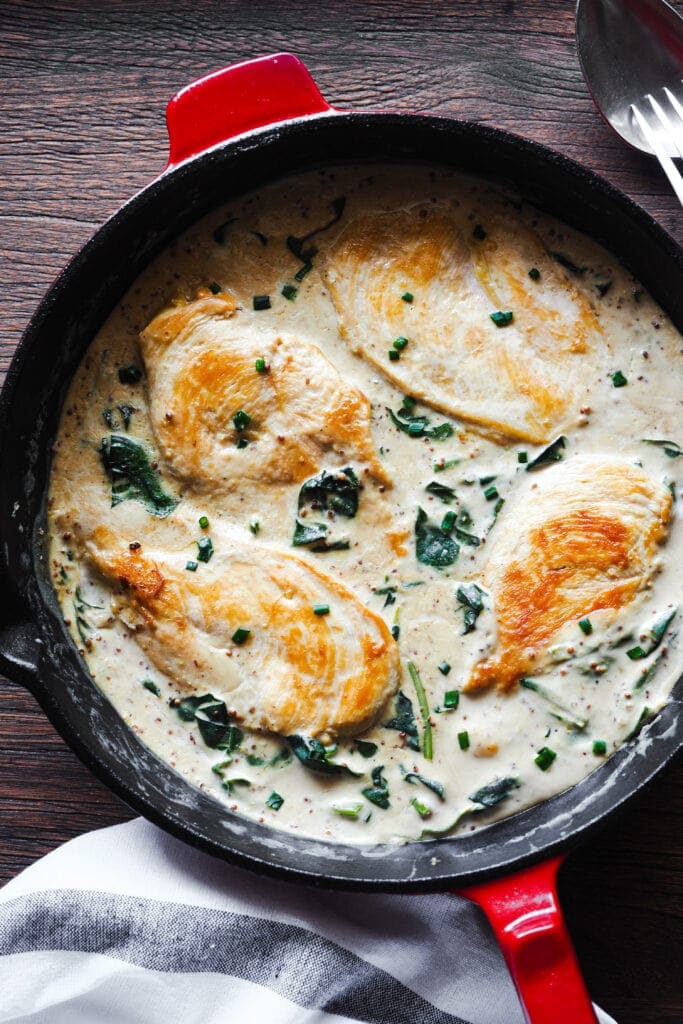 My Mum's Creamy Mustard Chicken Breasts were a staple at home. She has never been into cooking really – my passion comes from my paternal side-, so here recipes are always on the simple side. However, I don't know how she does it but her dishes are always a success and are bullet proof too. We loved this recipe so much!
I made it this week again at home and I was like "it's time I upload it on the blog after the success it had on insta last year", cause it's simple and so good. So here you have :). I've respected my mum's recipe with just a minor personal touch: adding some greens into the sauce (she would serve them separately).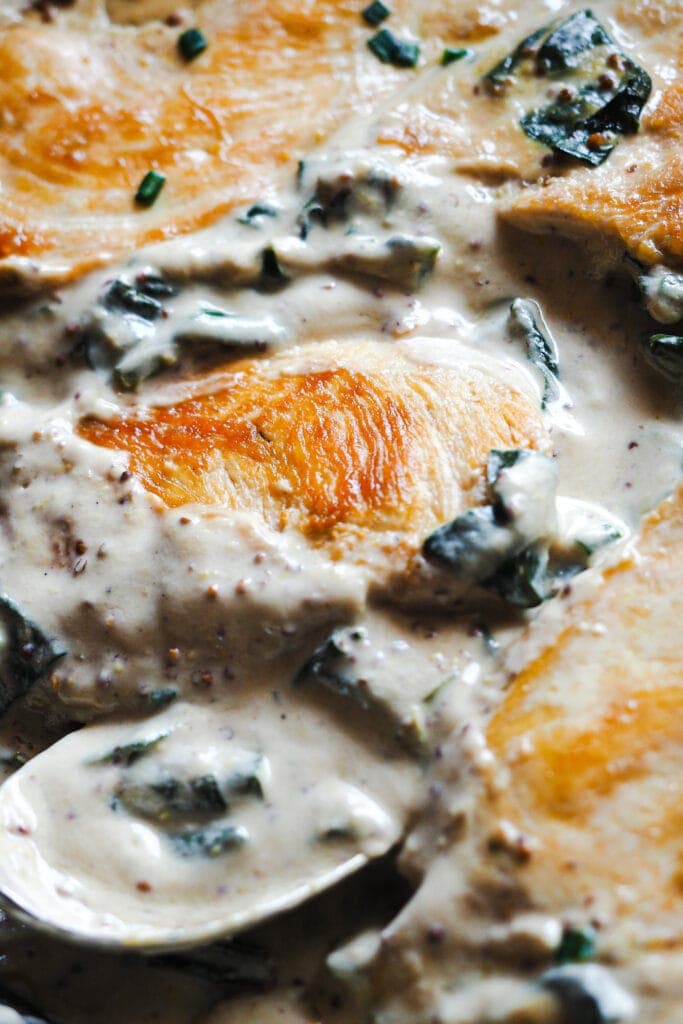 Creamy Mustard Chicken Breasts Ingredients
The list of ingredients couldn't be simpler and I'm sure you probably have all of them at home :).
Chicken: this recipe calls for chicken breasts. It's easy to always have chicken breasts in the freezer to make a meal when your fridge is empty, but the real key to using chicken breasts is how quickly they cook compared to other parts of the chicken like thighs and drumsticks.
Milk: it is the base of the sauce. The milk gets combined with single cream for a nice creamy touch, and at the same time we don't use single cream only to make the sauce a tad lighter (my mum is all about light food). You could use just milk if you wanted to but in my opinion the sauce would lack of richness,
Single cream: it is cream with 18% of fat.
Whole grain Mustard: the key flavour element of the recipe. I use wholegrain Dijon mustard cause it has a lot of flavour and in such a simple recipe good and tasty ingredients are key. As I mention in the recipe details, you can adjust the amount to taste since depending on the brand it can be more or less strong. You can use non-grain Dijon mustard alternatively.
Cornstarch: it's necessary to thicken the sauce and bind the milk and single cream (since there's no so much fat content, cornstarch bridges the gap to ensure the sauce thickens and gets creamy).
Spinach: the green touch that I mentioned before. You could also use kale, without the stem, or even chard, but you would have to separate the leaf from the stem, chop the stem and sauté it first so that it softens.
Salt and Black pepper: we need seasoning, always.
Olive oil: needed to seal the chicken breasts.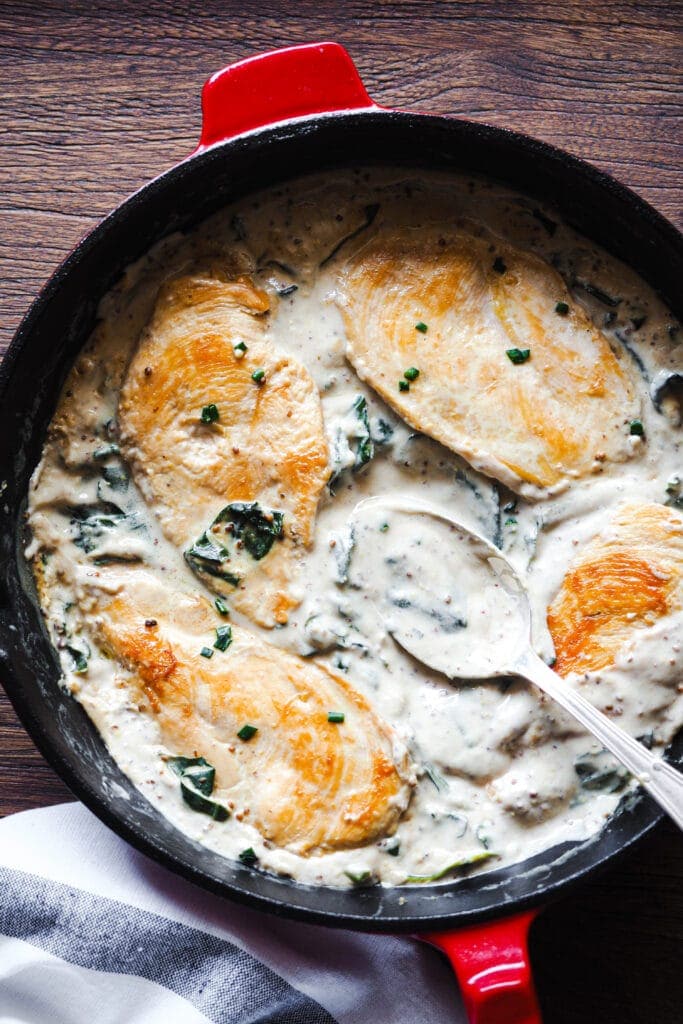 Some Tips and Notes on These Creamy Mustard Chicken Breasts
Keep in mind that the sauce thickens as it cools, and this is expected. When you reheat it, it will be a little more liquid again.
Once the sauce has the consistency you like, do not let it simmer for too long since it could curdle. If it does, remove the chicken from the pan, dissolve a tablespoon of milk with half tablespoon of cornstarch – so that it doesn't make lumps when you add it to the hot sauce -, add it to the pan and stir until the sauce binds again. Then, return the chicken to the pan.
If you want the sauce to be thicker, let it simmer for a little longer and if after a couple of minutes you see that the consistency does not change and you still want it to be thicker, you can add a little more cornstarch. As in the previous point, dissolve it first in a bit of milk so that it doesn't form any lumps when added to the pan. You could also add more cornstarch when blending the sauce initially.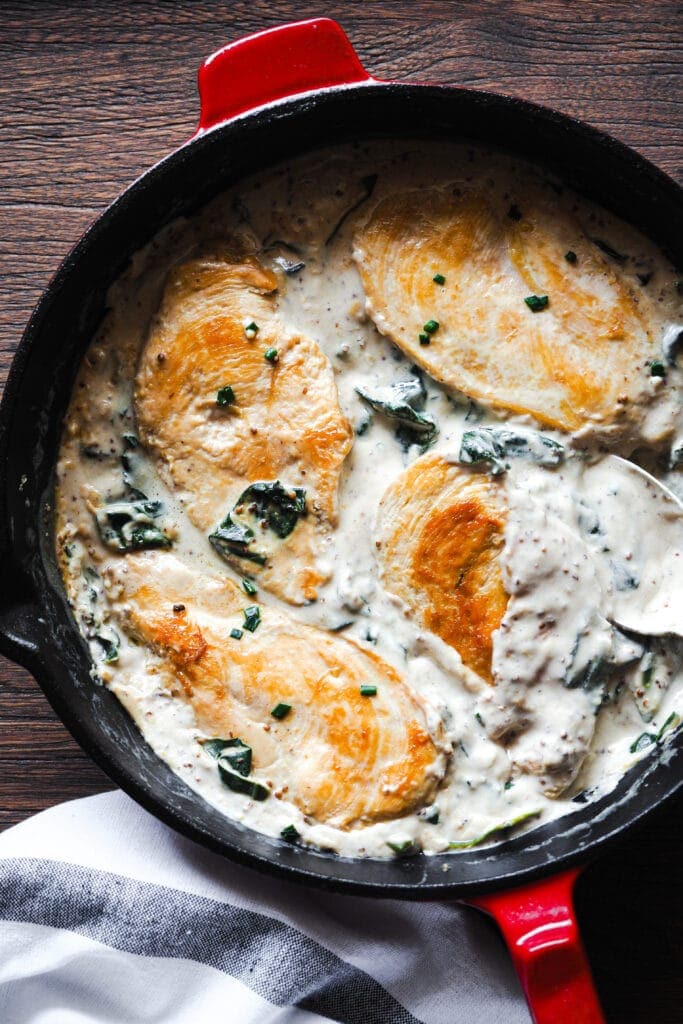 Once you try this recipe you will for sure make it again and again, because it really is that simple and quick while giving an incredible outcome. If you want to vary a bit though, this sauce is also good with white fish such as hake or you can use it as a sauce to top your vegetables with. I like to serve this chicken with a side of mashed potatoes, rice or pasta, but with salad or vegetables it's also delicious. In the latter case, make sure you have good bread to dip into the sauce!
More Recipes to Really Enjoy Chicken Breasts
If you make this 10 Minute Creamy Mustard Chicken Breasts recipe, be sure to leave a comment and rate it. Hearing from you is everything! Oh, and don't forget to tag me on Instagram, I absolutely love seeing your creations. Happy cooking! 
10 Minute Creamy Mustard Chicken Breasts
These 10 Minute Creamy Mustard Chicken Breasts are a lifesaver dish for any meal and occasion. Quick, easy and just a handful of ingredients required. The green spinach touch is optional, but I love it. Serve with rice, pasta, or mashed potatoes, or with a salad and some bread for dipping.
Print Recipe
Pin Recipe
Rate
Ingredients
2

chicken breasts

-

halved (4 fillets)

200

ml

milk

200

ml

single cream

1

tbsp

whole grain mustard

1

tbsp

cornstarch

85

g

spinach

-

roughly chopped if using regular spinach or as is if using baby spinach

Salt

Black Pepper

Olive oil
Instructions
Season the chicken with salt and pepper on both sides.

Heat a couple of tablespoons of olive oil in a skillet (large enough to fit the chicken in) over medium-high heat. Add the chicken fillets and sear until golden brown on both sides, about 2-3 minutes per side.

In the meantime prepare the sauce. Blend the milk with the single cream, mustard and cornstarch.

Once you've flipped the chicken and it's golden on both sides, reduce the heat to medium-low and add the sauce to the skillet. Once it has slightly thickened, stir in the spinach. Cook for a couple of minutes until the spinach has wilted. Adjust seasoning to taste and enjoy!
Notes
If the sauce thickens too much, add some water to thin. If it's too thin, set the chicken aside, increase the heat to medium high and let the liquid evaporate, then add the chicken back into it.
The recipe involves chicken, but feel free to swap it with white fish or use it as a vegetable sauce.
Serve it with pillowy mashed potatoes, rice or pasta. With a side of salad works great too but don't forget the bread then!
If you want to double the chicken breasts, I suggest multiplying the sauce ingredients by 1.5 instead of by 2.
Did you make this recipe?
Please let me know how it turned out for you! Leave a comment below and tag @paulasapron on Instagram and hashtag it #paulasapron.